Bunny Disappointment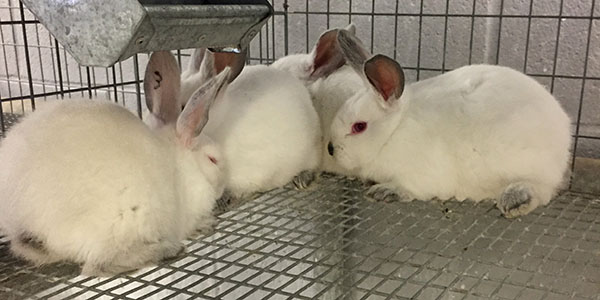 The frustration and disappointment on her visage said it all when she realized what happened to her bunnies. 3 out of 4 of junior Claire Heinrich's bunnies passed away during Christmas break, and unfortunately, Heinrich couldn't have done anything to prevent it and will not be able to participate in the FFA show this year due to this occurrence.
"I was extremely surprised when it first happened because it was all of the sudden," Heinrich said. "My friend called me and said that someone else had noticed that my bunnies were dead, so I went and checked on them and sure enough, they were."
Heinrich decided to name her 4 bunnies Oswald, Chris, Tabitha and Wes. Chris and Tabitha were named after the school's band directors, and Wes was named after the private lesson teacher in the band department. The only bunny still alive is Wes.
"They were about a month old," Heinrich said. "I get them at a certain age from the breeder, and I had them for a few weeks before they died."
The 3 bunnies died due to a bacterial infection. Heinrich believes it was from the poultry that was in the barn, which is a bacteria from the chickens and the turkeys called Coccidia.
"The bacteria hit fast," Heinrich said. "It was such a disappointment."
Unfortunately, there was nothing Heinrich could've done to prevent their deaths, and she genuinely cared for each of her bunnies.
"I really tried my best and cared about those bunnies," Heinrich said.  "I will not be able to participate in the show, which is really disappointing because I've spent a lot of money and wanted to gain something back. The most upsetting thing about this experience is putting in all the work and not being able to follow through."
During Heinrich's freshmen and sophomore years, she showed rabbits at the FFA show. Freshmen year, she received tenth place, and sophomore year, she was grand champion.
"Receiving the grand champion award my sophomore was pretty cool," Heinrich said. "It was relieving to know that my hard work paid off."
Fortunately, there is a positive outcome.
"Something positive that comes out of this experience is that I'm in the musical as well as FFA, and the musical is on the same days as the FFA show," Heinrich said. "I would be a lot more stressed out if I was doing both, so I'm glad I get to play in the musical."