SWAG's New Meaning
SWAG- it's not just a term describing what's cool. SWAG also stands for Student Wildcat Advisory Group, an organization formed by former principal, Carol Houston, to ensure that the students' opinions of the school are heard. Principal Chad Smith has now taken on the challenge to continue Houston's mission but with his own vision.
"I wanted a way to communicate with every organization fast," Smith said. "I also wanted a group that could give me honest feedback. I always believe that if you want to know the truth or you want to know what's going on, you ask the students and they will tell you."
In the past, the group only consisted of about 10-12 kids, but it now has more than 40 members. Smith has decided to include every president and vice president from each organization to participate.
"I feel as if this has been much more productive," Smith said. "I get to hear from every organization, rather than just from isolated pockets. I think the larger the group, the better; we get more information, and our students have been great."
The group meets four times a year and discusses all areas that need improvement around the school. So far, the group has discussed courses that need help, courses that are thought to be successful, school spirit, and advancing technology.
"We have identified all areas that we think we need to improve on, and now we're just working through solutions," Smith said.
SWAG helps Smith become aware of what is happening beyond the administration's and teachers' thoughts. By interacting with the students he is able to get different views on the school and also acquire honest opinions on how the school is doing.
"I need for the students to help me create the place where they want to be and that's the whole point," Smith said. "If I'm not listening to the students, I'm not listening to my people."
About the Writer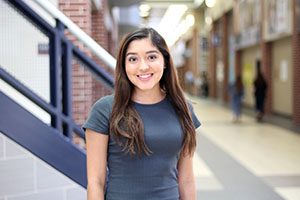 Sofia Gonzalez, Social Media Editor
My name is Sofia Gonzalez. I'm a senior and this will be my second year on staff. This year I am the Social Media editor, so I'm in charge of our Instagram...