Entering the major leagues
February 14, 2020
Entering the world of drum corps right after high school immersed Holyoak into a vastly new experience – far different than the average college freshman. Participating in corps for three years meant enduring 12-hour rehearsals in May and spending June through August on the road touring. The corps would often wake up at 7 a.m. in one location, spend the day practicing and performing in stadiums of thousands, and arrive at the next location at 4:30 a.m., ready to do it again.
"Now I have a benchmark because whenever I'm stressed I just go back and think, 'I'm not as stressed as I was in drum Corps,' so I'm OK," Holyoak said.
Spending his first fall semester after high school working full-time at PF Changs, Holyoak started off at Lone Star College before transferring to Brigham Young University after his third season with the corps. As participating in corps came with a price tag, Holyoak juggled working full-time, attending college and conducting the corps, all while attempting to avoid debt.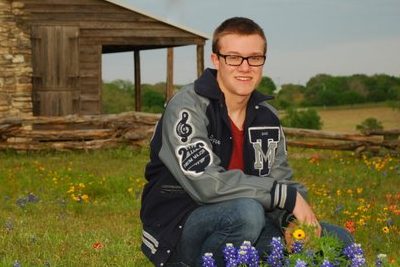 "The first season was kind of a roller coaster," Holyoak said. "It was pretty crazy because it was my rookie year, a little intense, but I was just trying to stick with it and do what I could."
His new responsibilities, which included leading the corps and helping run administration, came with perks as well – as drum major, Holyoak essentially became one of three "faces" of the corps.
"You're doing interviews and photoshoots, which can be cool but also really intimidating," Holyoak said. "Conducting is ten percent of your job, I would say."
Building leadership skills was just part of the program's benefits. Forming a friendship with fellow drum major Caitlin Hall, for instance, gave Holyoak someone who understood what he was "dealing with when in tough moments."
"The leadership and people skills Spencer gained while being a drum major in high school and Drum Corps have already proved to be an asset," Spencer's mother Tracie Holyoak said. "While on his Church mission [in Norway], he has been in many leadership positions and given him experiences which will last a lifetime."
Earning such life skills came in many different ways.
"There was one moment where I really lost my cool and completely blew up on someone in front of everyone. I took them in pretty hard," Holyoak said. "I remember that night at semifinals, Caitlin took me aside and was just like, 'you are going way below your potential, and you need to figure this out' and that really struck a chord with me."