Playing the part
February 14, 2020
Adrenaline rushes through his veins, tens of thousands of faces mirror his and the bright stadium lights wash over him, along with the knowledge that this was the the culmination of months – years, really – of sweat, tears, and elbow grease.
That day in August 2014, Tomball Memorial '14 alumni Spencer Holyoak conducted the Crossmen Drum and Bugle Corps at the Drum Corps International (DCI) finals in Lucas Oil Stadium, finishing his first of three years as drum major of the corps and becoming the first and only graduate to achieve such a feat.
Drum corps, dubbed "marching band's major leagues", is a sect of marching band in which brass players, percussionists and color guard members under the age of 22 spend months performing and competing with intense, 11-minute marching shows. Each drum corps season culminates in DCI finals in August. As drum major of the Crossmen, Holyoak conducted the corps' shows in various stadiums for up to 30,000 fans for three years.
Though his current career path has shifted away from music, Holyoak left his mark as one of the fine arts program's most accomplished alumni. Holyoak is now continuing to impact others by studying psychology at Brigham Young University, and is currently finishing a year-long mission trip in Norway with the Church of Jesus Christ of Latter-day Saints.
As part of the first graduating class at Tomball Memorial, Holyoak, a clarinet player, conducted the school's first band members. Since the first class at TMHS initially consisted of sophomores alone, Holyoak auditioned for the position as a freshman at Tomball High.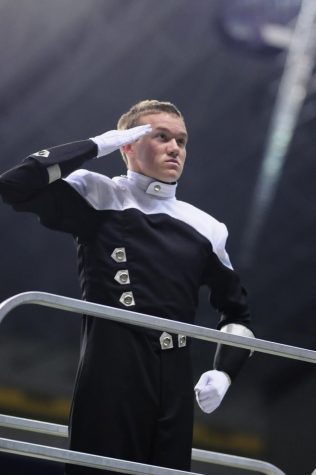 "He was a solid band kid when he was a freshman at Tomball High School when I first met him, but from the time he was here he embraced that role of being drum major," band director Andy Easton said. "He was definitely the strong leader of the band program for three years."
Switching from THS to TMHS gave the first class of students a unique experience – students essentially held the task of starting the school and its programs, including the band, from scratch.
"It was different not having any seniors or upperclassmen around, everyone just kind of mingled," Holyoak said. "We tried really hard to make our school what we wanted it to be."
As drum major, Holyoak got his first taste of larger arenas while conducting in the state marching contest senior year. In between adjusting to the new school's environment, however, his interest in the world of drum corps began. Holyoak first encountered corps freshman year of high school, watching the drum corps finals with older band members.
"That was a goal most of the time that he was in high school, he wanted to go be drum major for a drum corps," Easton said. "Being a clarinet player, he wasn't going to go march but that was definitely something that he wanted to do and that he and I worked on together. I helped him with his conducting before his auditions."
Though the interest stayed in the back of his mind through most of high school, Holyoak's skills as both a leader and team player continued to stand out.
"He was an outstanding leader, which you've got to be to be a drum major," Easton said. "He was very friendly, fun-loving, everybody enjoyed being around him, but he could balance that with knowing when it was time to get to work."
Shortly before senior year, Holyoak's interest in drum corps intensified. In the middle of summer marching band camp, Holyoak drove out to Indianapolis to watch the DCI finals with two close friends.
"On Friday right after rehearsal we packed up all of our stuff, threw our bags into a car and drove to Indianapolis overnight," Holyoak said. "That was crazy, and I think the thing that really got me was watching one band that performed Les Mis; it was the part where the entire corps is making straight lines. I was looking at the drum major the whole time and I was like, 'I can do that, I can look like that!'"
After committing to the goal, Holyoak immersed himself in the audition process. Auditioning for the Crossmen Drum and Bugle Corps was a three day affair, with Holyoak and seven other young adults auditioning for one spot in the drum major lineup.
"You sleep with them, you eat with them, you shower with them you do the whole audition with them," Holyoak said.
Nonetheless, Holyoak managed to survive the intensive audition, earning a prestigious spot as one of three drum majors for the corps.
"I called my mom after the first night and said, 'I don't know if I can do it,' and she was like 'no, no you got it'," Holyoak said. "Finally I was told 'we want you to be a drum major for the Crossmen Bugle Corps, will you accept the contract?' I stood with the other two drum majors and from that point on it was go, go, go."