UIL One-Act Play, Home At Last
Theater Brings Audience To Tears Performing Winning One-Act Play
The atrocities committed during World War II may never be forgotten. But imagine just how fresh that pain and hatred felt, only sixty years after. In their UIL One-Act Play, our theater department moved audiences as they told the story of Germany as she invited six million Jews back into her borders. Following several families that represented the turmoil that ensued, viewers were brought to tears.
Last Friday, TMHS Theater performed their UIL Play, Lebensraum, in our auditorium. They have been performing the play in UIL competitions around Texas, and advanced all the way to Bi-District.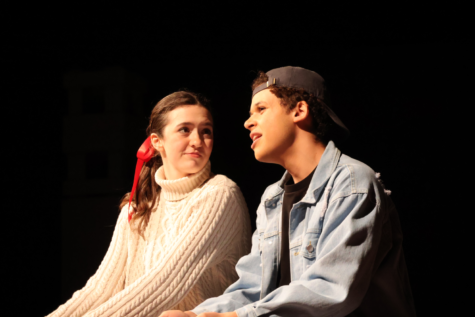 They not only achieved success within themselves, but actually helped gain points towards UIL Academics, who competed Saturday.
Friday was Theater's last performance of Lebensraum, and it allowed them to show off their hard work to friends and family, without the stress of competing. Behind the scenes and onstage, the group knew how important the story was that they were telling and worked hard to bring it into the light.
"It's an amazing story, and I feel our cast and crew is skilled enough to tell that story accurately," Devin Luckey (lead actor) said. After performing against other schools, they not only grew to understand the impact of the play, but wanted to share that emotion with people closer to home.
"I'm very excited that we get to show this off to our friends and family. It's a beautiful story, and I think a lot of people need to see it," Maya Nava (light crew) said. After competing with the play for weeks, Theater was glad to perform with those they cared about in their home theater, one last time.
"We're all proud of the show, it's really nice to say goodbye with people you care about." said Charlotte Feucht (Stage Manager).