Wildcats Suit Up For Homecoming Week
Students participate in HOCO events throughout the week leading up to the big game against Klein Forest.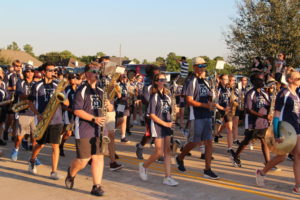 It's that time of year again Wildcats. Homecoming week has returned better than ever with a new line-up for the dress up week as students wait for the much anticipated football game, as well as the dance.
Leading up to the game, students are able to participate in the homecoming weeks dress up days, which have different themes for the students to dress up in for each day.
On Monday, we have "generation day," where classes can dress up as different generations. The freshmen are infants, the sophomores are toddlers, the juniors are adults, and the seniors are senior citizens. On Tuesday, we have "Anything but a backpack day," where students can get creative with how they carry their school supplies. On Wednesday, we have "Dress as your favorite Holiday," where students can get festive by dressing as their favorite holiday. On Thursday, we have "Throwback Thursday," where students can take a trip back in time and wear clothing from whatever era they desire. On Friday, our students can show their Wildcat spirit on our final day of the week, "Navy out".
On the day students were able to bring anything but a backpack, Casey Merritt (12) wore his school spirit on his sleeve. "I love spirit week. I have so much school spirit, I love the school, and I love Tomball, Texas."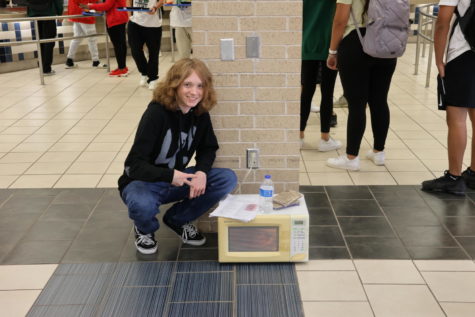 Coach Sarah Ellison shed some light on how the school chose the days for spirit week. "Dr. Bailey actually put a form out there for students to provide their own feedback so the students can have more of a say in what they want to do and what they want to wear and celebrate." Tomball Memorial is not afraid to show its school spirit, and Coach Ellison thinks other schools should do the same. "TMHS does a really good job believing in school spirit. If the other schools got on board, then they would have a better time like we are."
The dress up days are not the only events leading up to the football game. During the afternoon on Wednesday, we take part in the annual Rock-The-Block Parade. In this community event, school organizations, such as the football team, the band, the cheer team, student council, ROTC and so much more, march around the school and end in the stadium for a pep-rally. Make sure to attend this event today and show your wildcat pride.
To round out the week we have the Homecoming football game where the Homecoming court will be revealed. Come support your fellow Wildcats on Friday as we take the win from Klein Forest.
This Saturday, the Wildcats take a trip to the 1920's for our homecoming dance. Be sure to buy your ticket early, and we hope to see you all there!