HOSA Goes To Washington DC
Tomball Memorial Highschool is home to many clubs and organizations; these clubs help our students to flex their creative and academic abilities outside of school. One such club is HOSA, (Health Occupations Students of America) a club that allows students who are interested in going into the medical field to get experience, collaborate with their fellow students, and become leaders in the global health community
The HOSA organization is a great experience for any students who want to go into the healthcare industry when they graduate and is also a great place to make new friends and meet people with similar interests. School president Mylan Le gave her insight on HOSA and her experience in the club. "The experience is honestly amazing, I've met a lot of new people and I've got to experience leadership opportunities," Le said.
Recently, Tomball Memorial had the great honor of sending one of our own students, Jocelyn Auxier, who is HOSA President of Texas to Washington DC for the HOSA state conference. Auxier had the opportunity to collaborate with HOSA representatives from across the country to discuss the future of healthcare on Capitol Hill. She describes her experience as the HOSA state president. "It's really amazing, it's a lot of work but I've been passionate about it since freshman year so it's very rewarding to work my way up," Auxier said.
Auxier describes her Washington trip and how it influences her outlook on HOSA. " I was in a conference room with a bunch of people with the same passion as me and so being immersed in that environment, I felt utilized. Within HOSA, I was with the best of the best, and I felt like I fit in."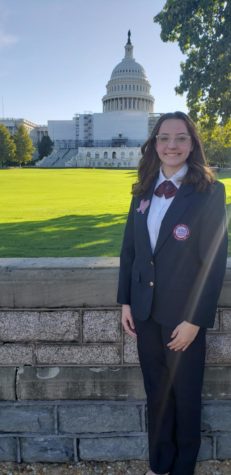 As state president, Auxier carries a lot of weight on her shoulders, but she doesn't let the pressure weigh her down. She tells a personal story about how she deals with pressure. "I was at the international conference this past year representing Texas, and somebody came up to me and thanked me, but I had no idea who this person was. Then I realized I had cheered their name at the state leadership conference because I recognized their name, and they told me it meant a lot to them. It allowed me to see that with my title, yes there is some pressure, but it also gives confidence to other people because I know I'm using it for good."
HOSA is a great opportunity for students interested in joining the medical field and is a great place to connect with your peers and meet new friends. If you're interested in joining HOSA then look out for posters around campus for the next meeting. Everyone is welcome, hope to see you there!!!