Tomball Memorial High School FINISHES IN 2nd PLACE AT THE UCA NATIONAL HIGH SCHOOL CHEERLEADING CHAMPIONSHIP AT THE WALT DISNEY WORLD® RESORT IN FLORIDA
Tomball, Texas, February 15, 2023 – Tomball Memorial High School is proud to announce that their game day competition team competed at one of the nation's most prestigious cheerleading competitions, the National High School Cheerleading Championship, and finished in 2nd place. The National High School Cheerleading Championship is produced by the Universal Cheerleaders Association (UCA), a division of Varsity Spirit – the global leader in cheerleading, dance team and band apparel, camps and competitions, and a division of Varsity Brands, the market leader in team sports, school spirit and achievement recognition.
The National High School Cheerleading Championship, held at the ESPN Wide World of Sports Complex at The Walt Disney World® Resort on February 10-12, 2023, is the pinnacle of cheerleading competitions for high school cheerleaders across the country. This year's event hosted 1,125 teams across 33 states. Teams competing at the championship must have qualified at a regional competition in 2022. Teams competed a Traditional Routine, Game Day and the newest division at the championship, Game Day Live. The Game Day Live division debuted in 2020 and offers cheer teams the opportunity to perform with their school's band members in a live performance setting and translate their traditions from the sidelines to the competition floor.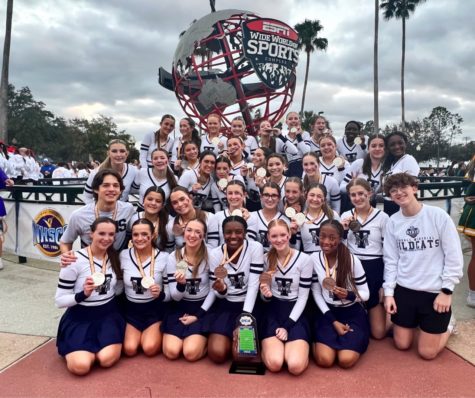 The National High School Cheerleading Championship was the first of its kind in 1980, created to reward cheerleaders for their work on the sidelines and to create a venue in which they could be recognized for their talents and abilities. This championship has been featured on ESPN since 1983 and has been broadcast to hundreds of millions of homes. Varsity Spirit partnered with the Walt Disney World® Resort in 1995 and has been creating unforgettable National Championship experiences ever since.
"This year has been an amazing ride for the team, especially since over half of the team is a freshman or sophomore. We started the year off as the underdogs and finished on top with second in the Nation. I have never seen a team work this hard before. They all chose to practice instead of play, and it paid off in the end ," Coach Sarah Ellison said, head cheer director at TMHS.
For more information on the National High School Cheerleading Championship, please visit Varsity.com. Varsity Spirit live streamed the championship on Varsity TV, a website dedicated to exclusive live coverage and video libraries of Varsity Spirit cheer and dance competitions. Videos of the routines are available for fans who were otherwise unable to attend, and full results listings are available on Varsity TV. The championship will air on ESPN2 and ESPNU beginning in the Spring of 2023. Viewers can check their local listings for air times.