Theater Opens the Year With a Magical Performance Of 'Peter And The Starcatcher'
Students success in the first play of the year provides a positive outlook on performances to come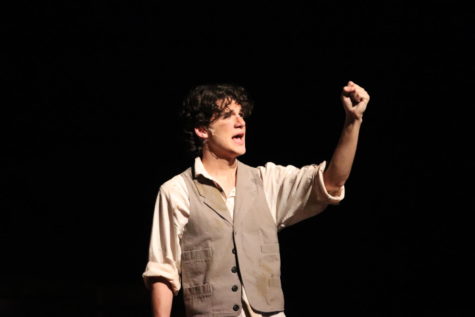 The deep blue curtains begin to pull back, revealing a group of students onstage. Except they don't look like students. They range from pirates to mermaids, orphans to proper little British girls. As they begin to tell you their story, you can't help but stare wide-eyed in awe.
This past weekend, the theater program put on the first play of the year. They performed 'Peter and the Starcatcher' by Rick Elice. The directors were TMHS Theater Arts teachers Bryce Ballew and Tanner Holley. The play tells the story of young Peter Pan, before he knows who he is. The show ran for a total of four days and was seen by the majority of the school, along with parents, administrators, and friends. The cast and crew of the show seem to have mixed feelings, but the overall outlook of the show was extremely positive.
Looking back to the performances of last year, Kellen Highfield, who plays Peter in the show, feels that this was not only a great way to start off the year, but a great way to show the improvement that continues to occur in the Wildcat Theater constantly. "This show is my favorite I've ever been a part of, and I'm honestly not yet ready to let it go," Highfield said. It isn't Highfield's first year in the program, but getting his first lead as a sophomore -with such an iconic role- both surprised and excited him for the year to come.
Behind the scenes, the crew is also excited -deservedly so- as they work lighting, props, sound, costumes, etc. The stage director for 'Peter and the Starcatcher' was sophomore Maya Nava. Nava was ecstatic to be given a leadership position and felt much closer to everyone in the program. "It feels more family-oriented, more connected than it was last year," Nava said. She also mentioned her appreciation for the directors, which seems to be a shared sentiment among all the theater students.
The praise for Directors Ballew and Holley was voiced by every student interviewed. "They're the reason we're up there," Highfield said. "They've shaped me into not only the actor, but the person that I am today." Ballew and Holley run the theater program like a family and influence these kids to go on and not only follow their dreams, but to be better people.
The directors feel just as proud of the students and are just glad they can encourage them and be there to help. "The kids are just getting better everyday, which is exactly the goal," Ballew said. He was extremely happy with the cast's performance and is looking forward to the rest of the year. "'Peter and the Starcatcher' is just fun for the whole family, and we're hoping everyone can come out to see the next one."