TMHS Band Receives All Ones In UIL Qualifier Competition
Band members are excited for what may be their last trip to the state competition.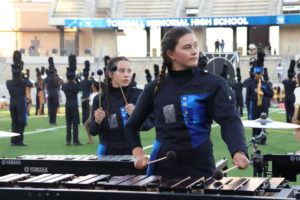 This past Tuesday, our band was one of the last to perform in the 6A division in a UIL qualifier at Woodforest Bank Stadium. We did not actually compete against any other schools, but we did receive superior ratings and are moving on to Area on Saturday, October 29 at Galena Park Stadium.
If they make it past the Area finals, the band will move on to compete at the state level. Every year, it alternates between groups competing at state. Last year, groups 1-3A competed, so this year, 5-6A has a chance to compete. Because of the way the groups alternate, for many of the students in band, it may be their last chance to go to state.
Junior flute player Makayla Breaux was not surprised by the outcome Tuesday, and hopes they can continue with good ratings all the way to state. "Receiving all ones was expected," Makayla said. "I would love to see us make it to state again." But it's not just the students with instruments in the competition. They are joined the whole way by our color guard.
Junior color guard member and Makayla's sister, Kira Breaux, is enjoying the season and is also proud of the band's Tuesday performance. "I was happy with the outcome," Kira said. "I can't wait to perform again." They aren't the only ones who are excited for another performance. The TMHS audience has expressed their excitement for the "Mood Swings" theme that is in play this year.
With the new theme came new costumes, costumes that were received extremely positively by the general public. "They're from the swing dance era," Kira said. "They are very unique." These 20s-40s style costumes fit the "Mood Swings" theme to a T, and overall, just enhance the performance.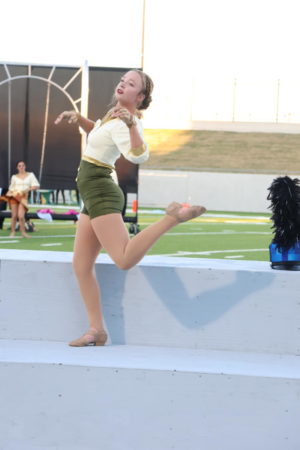 Not only will they be performing, but members also have the opportunity to take in other schools' performances! "I'm looking forward to watching other bands play," Makayla said. The entire band and color guard are excited and working hard to prepare for the upcoming competitions, and their peers will be cheering them on!