TMHS Roarin' Blue Band Going to State
Will they manage to move on to finals?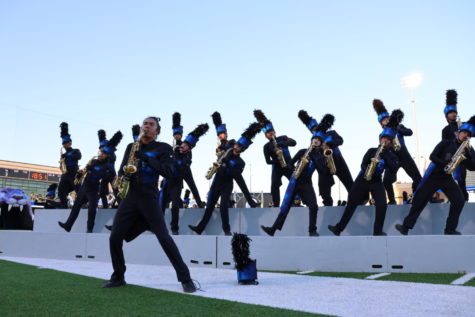 The Roarin' Blue Band found themselves advancing to the Marching Band UIL State Contest following an outstanding performance of their routine, "Mood Swings," at the Area Marching contest at Galena Park. The State Contest will be hosted at the Alamodome Stadium in San Antonio, Texas, from November 7th until November 9th.
This incredible opportunity has been met with eager anticipation on behalf of the band members, which for many of them, this may be their final chance to compete at the state-level.
Roy Acton, a senior member of the band, is quite confident in their abilities. "We're definitely better than we have been in past years, but the show is a lot harder than we have had in past years as well," Acton said. "As the band grows, the show gets harder as well." Acton isn't the only one who has observed a notable enhancement in the band's performance. Other students have mentioned the band's growth as well.
A sophomore in band, Tristan Flores, feels that in this year's show, there is much more passion present. "This year, we have way more energy than we did last year," Flores said. "There are points in the show that I feel really get the audience going." The "Mood Swings" theme for this year has left both participants and spectators incredibly enthusiastic.
Band member, Maria Rea, admires the upbeat atmosphere created by the "Mood Swings" routine. "We have more choreography and more dances," Rea said. "I like it; it's more jazz-themed, more swingy— that's why it's called Mood Swings." The Roarin' Blue Band accompanied by color guard will have the chance to demonstrate their outstanding talent and ingenuity through their performance of "Mood Swings" at the State UIL Contest; their tireless efforts to make this breath-taking performance what it is will undoubtedly make TMHS proud!