TMHS Production Of "Is He Dead?" Proves Huge Success
Turnout And Support For The Second Play Of The School Year Encourages Theater Program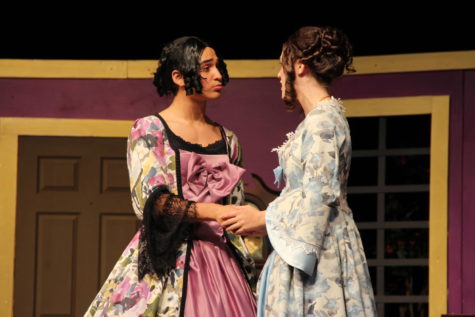 Two weeks ago, the TMHS theater program put on their second production of the year, "Is He Dead?" Written by Mark Twain, it tells the story of a group of poor artists, one of whom pretends to be dead to drive up the prices of his work. This comedy directed by Tanner Holley is full of hilarious disguises, schemes, love, deception, and even royalty.
The play stars Jean Francois Millet, who is played by sophomore Andrew Morataya, a starving artist who fakes his own death to better the life of his love, Marie Leroux, played by senior Abigail Boyd. "As a sophomore, this opens up a lot of opportunities for me for my future in the theater," Morataya said. While starring in any production as a sophomore is a big accomplishment, there were a few concerns circling the role Morataya ws playing.
In the production, after Millet fakes his death, he takes on an alter ego- Millet's widowed sister, Daisy. Obviously there would be some stigma around Morataya playing a woman for the majority of the production, but luckily, it went off without a hitch. "My utmost concern was just playing a woman and how people might look at it, but I'm glad I got to do it because I feel that it was something that not a lot of people could or wanted to do," Morataya said. However, he managed to pull off both the part, and the heels, incredibly.
Obviously Morataya couldn't have done it without the help of the crew and stage manager, Lauryn Steiger. While the crew for this production was on the smaller side, they managed to pull off a beautiful set and incredible effects. "Because it was such a small crew, it really helped build that sense of community, which helped us to be successful in the production process," Steiger said.
This is not the first production Steiger has been behind, and she hopes it won't be the last. "It's funny because if you told me freshman year that I would be stage managing, I never would have believed you. It's been such an amazing experience, and I cannot wait for the next opportunity to come," Steiger said. Because it is only her junior year, there is no doubt that she will be stage manager for more productions to come.
While of course you can see the actors on stage and see the set, lights, and costumes put together by the crew, any production would not exist without a director. Mr. Holley expressed his joy for the theater and his excitement for this group of students as they go through the program. "The cast list was a lot of fun because it was one of our younger casts in regards to what class they're in. It's exciting because it shows that the future of the program is very bright," Holley said. He mentioned just how much fun the group had, and how proud he was of this particular production.
The whole TMHS Theatre program pulled off an incredible performance, a sentiment that seems to be shared by the large, loud audiences that showed up from opening night to closing. One thing is for sure, the future looks good for the program, as students continue to learn and grow. "So many underclassmen stepped up and made their mark, while our upperclassmen showed great leadership throughout the process," Holley said. Next is the UIL one act play, which definitely won't be one to miss!