Last Wednesday, September 20th, the Wildcats brought their school spirit and lit up the Tomball Memorial block around the campus. As we begin the 2023-2024 school year, the Wildcats are showing their pride through pep-rallies, football games, open house, and more. For the Rock the Block homecoming parade, TMHS clubs joined forces and took a stroll down the Wildcat's block.
With clubs and teams like boys and girls soccer, DECA, band, cheer, and football, the start of each season has never looked better. Football is off to a great start in their season and certainly showed it with their captivating floats. Other teams like soccer and basketball are yet to begin their season, but are already showing confidence as they stroll through the TMHS block in their festive float and electric teams.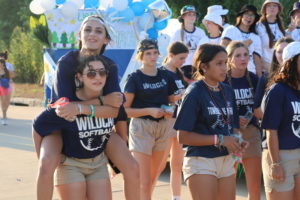 "I had a great experience during the rock the block, and I was able to enjoy it with my teammates. I feel like everybody had a good time and got a chance to connect with each other," sophomore and team member of the soccer varsity team Rafael Munoz said.
Not only do we have our athletic teams showing up for the Rock the Block, but we had clubs like DECA show off their talents and attributes as well.
"I enjoyed it. I was able to go with DECA, and we were able to show the parents and students what we are about," senior and DECA member Juan Diaz said.
During the Rock the Block parade, upperclassmen, like Bently Fry, were able to show their leadership and Wildcat ways, as well as connect with the TMHS parents and underclassmen.
"Since I am a section leader for band, I was able to connect with my team. It really feels like we are a family," Fry said.
In addition, programs like the Big Little Program are allowing underclassmen to find their place in the Wildcats family with ease.
"I feel like the big little program really helped me connect with the upperclassmen. I hope to come back next year," freshman and choir member Eva Pabon said.
As the night came to a close and a king was crowned, the Wildcat trainers walked away with 1st place for their homecoming float.