On Friday night, the Wildcats played against the Cypress Springs Panthers. The two teams battled back and forth, but the Cats came out with the first round playoff win with a final score of 30-29. The game game went back and fourth with both teams responding to each other, touchdown for touchdown they relentlessly went step for step with each other, but the Wildcats came through with the win advancing to the second round. The offense threw for 190 passing yards and ran for 175 rushing yards.
"When it was fourth down and the game was in our hands, I beat my receiver, saw the ball coming my way, and toe tapped it in the endzone," junior Ashton Ansley said. Ansley swerved around the Panther defenders and totaled 91 yards and two touchdowns, including the game winning touchdown.
"When we noticed the running game wasn't working, we had to resort to passing, and we just got open for some big plays," junior Aiden Martin said. Martin found the open man and had 190 passing yards and ran for 19 rushing yards.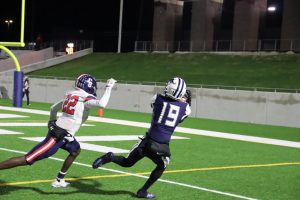 "I knew that when the receivers were locked up, I needed to get open and that's just what I did," junior Randall Russ said. Russ became open and ran for 75 receiving yards for multiple game changing first downs.
The Cats are set to play the Willis Wildkats on Friday, November 17, at 7pm at Randall Reed Stadium. The Cats hope to beat the Wildkats and move on to the third round where they will play the winner of the Wylie East versus Desoto game.