Last Friday, the girls varsity volleyball team beat Tomball 3-1, giving them a winning record of 2-0 against Tomball this season. As the Wildcats close in their season with two more games remaining, the team continues to gain confidence as they hold a 33-8 record for the 2023-2024 season.
This Tuesday, they faced Klein with the hopes of extending their winning streak to 13 wins in a row. The game was held outside of home, taking place in Klein, at 5:30pm, this Tuesday, October 17. The Wildcats came out with a win as they beat Klein 3-1. On Friday, October 20, the Wildcats will face Klein Oak at home, at 5:30pm. The girls are extremely confident that they will continue to extend their win streak and are excited to see how they will do in further district, area, state, and national games.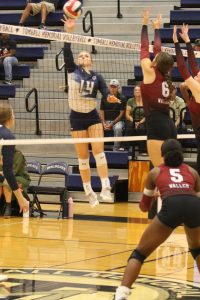 "I think this season we are having a lot more fun, which has allowed us to connect and build a stronger, better working team than last season," senior and leader of kills on the court Avery Craig said.
"A huge part of our success has been our competitiveness, " senior and leader of dogs and receptions on the court, Anahi Alvarado said. "I have loved to see how we have grown as a team, and I am excited for what is to come."