On Friday night, the Wildcats played against the Waller Bulldogs and finished the regular season strong with a final score of 59-21. The game started off with the Wildcats scoring first and never looking back. Leading by ten at halftime, the Wildcats continued to dominate, winning by 38 points. The offense threw for 133 passing yards and ran for 339 rushing yards.
"I noticed what the play was about to be, and I adjusted to it. I was ready for what was about to happen," senior Justin Stewart said. Stewart made the Waller offense regret rushing his direction due to his twelve tackles for the win on Friday.
"I focused on what the offense was doing and tackled the person who was going to be the one to get the ball," junior Ethan Lea said. Lea created a brick wall against the Waller offense and had thirteen tackles against the Bulldogs.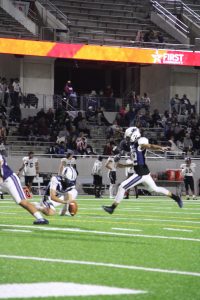 "It made me feel comfortable when I saw a gap in the offensive line, and I went for it which resulted in my tackles for loss," senior Aiden Holt said. Holt made the offense run the wrong direction with eight tackles including three tackles for loss.
The Cats finish their regular season at 9-1 and 6-1 in district play on the season and finish in second place in the district standings. Their first playoff game will be against the Cypress Springs Panthers on Friday, November 10th, at 7pm at Tomball ISD Stadium. The team finished the regular season as the #37 team in the state. The Cats hope to beat the Panthers and move on to the second round where they may play the winner of the Willis versus Aldine Nimitz game.