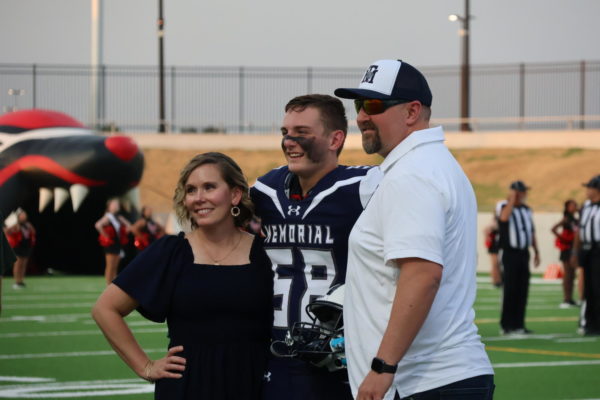 This Friday, August 25, 2023, the TMHS community gathered at the TISD stadium for the first football game of the season. Not only was it the first football game, but it was an opportunity for the trainers, cheer, Navy Empire, and football team to recognize those among them who are graduating in May 2024.
The coaches and other staff are proud of these leaders of the student body, and this is only the first of many teams' senior nights to come this year. These athletes and athletic trainers have worked hard to get to where they are and are eager to continue their accomplishments and excited to experience all this year has to offer.
"I just want to graduate with good grades and with all my friends," football player Jeremiah Gidrey said. These seniors want to live it up and make it count in their last seasons.
"I want to hopefully go far in the playoffs in football this year," football player Aiden Holt said. While not all of the athletes are sure if they will continue their respective sports after high school, many strive to do so.
"I hope to continue cheering after high school. It's a goal I'm working toward currently," cheerleader Baylee Buckley said. Most of the senior cheerleaders are looking to try out in college, and some even wish to continue after that.
"A goal of mine is to continue cheer at Sam Houston, then try out to be a UCA staff member one day," cheerleader Ryann Charles said. These athletes' success can be greatly attributed to their TMHS coaches, who continue to support them and future students to come.
"I hope that I have equipped them with skills and abilities that will serve them in life wherever they go and whatever they do," head Athletic Trainer Carissa Spraberry said. "I'm so proud of our seniors, and I know that they will go on to make a positive impact on the world around them."