On Thursday night, the Wildcats played against the Klein Oak Panthers and rained down on them with a final score of 35-13. The game started off quick with the Wildcats scoring the first, second, and third touchdowns of the game. The rest of the first half was slower, with multiple interceptions, fumbles, and dropped passes by both teams due to the rainy weather, but going into halftime, the Cats led 21-0. The offense threw for 191 passing yards and ran for 257 rushing yards.
"I felt comfortable with my defensive teammates and I feel that we are playing well and ready for playoffs," senior Colin Helmer said. Helmer racked in eight solo tackles, and four that resulted in a loss for their offense.
"I knew that they weren't expecting the ball to be thrown to me, so when I was open, I threw my hand up and caught the ball for my team," junior Randall Russ said. Russ jumped all over the Panthers and had three receptions for 62 receiving yards.
"The line was not letting anyone past them and then they had to result to passing, and our secondary defense wasn't letting anything be caught," senior Dylan Curl said. Curl built a brick wall on the offensive line and completed three solo tackles and one sack that resulted in less points for the Panthers.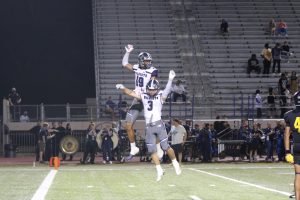 The Cats move to 8-1 and 5-1 in district play on the season and remain in second place in the district standings, behind Klein Collins. Their next game will be against the Waller Bulldogs on Friday, November 3rd, at 7pm at Tomball ISD Stadium. The team continues to move up into the top teams in the state, moving up to the #39 spot. The Cats hope to move to 9-1 in district play and pass Klein Collins for first place in the district.