On Friday Oct. 20, the Wildcats played against the Klein Bearkats and walked out with a final score of 34-29. The game started off slow, with both Klein And TMHS scoring in the first quarter. In the second quarter, the Bearkats dominated with two safeties and a touchdown and took a two-possession lead going into halftime. The Cats came back strong in the second half, which resulted in them regaining the lead and never giving it back. The offense threw for over 250 passing yards and ran for 179 rushing yards.
"While we started off slow, we knew that this is a must win with playoffs near, so I clutched up and got open so Aiden did not struggle in the pocket," senior Lance Martinez said. Martinez jumped over the Klein defense, with 142 receiving yards off of 6 receptions. He also totaled two touchdowns off of those receptions.
"We didn't expect them to start like they had, so we had to lock in and focus a little more than anticipated, but we figured out their game plan slowly, and it resulted in another Wildcat win," senior Colin Helmer said. Helmer left no tracks after he clocked in ten solo tackles on the defensive side of the ball.
"I felt that the kicker was asking me to return the kick, so I went for it, and it paid off, making it farther than a touchback would be and making the offenses' job easier," senior R'Mon Williams said. Williams swerved around the kickoff crew with 63 kickoff yards.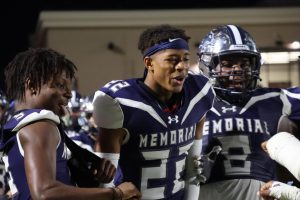 The Cats move to 7-1 and 4-1 in district play on the season and remain in second place in the district, behind Klein Collins. Their next game will be against the Klein Oak Panthers on Thursday, October 26th at 7pm at Klein Memorial Stadium. The team continues to play at a high level remaining in the top 50 teams in Texas at #45. The Cats hope to move to 5-1 in district play and move up to first place in the district.