The Wildcats began their season dominating the field on last Friday night. The Tomball Memorial Wildcats started off with a bang in their season opener as the team beat Langham Creek 53-6. The offense and the defense showed great effort on both sides of the ball by making plays and controlling the scoreboard all night.
The Wildcat's passionate energy connected not only the team itself, but also the student body, with the community by establishing a strong spirited start of the season. As the team continued to dominate the field, their energy kept the crowd motivated and committed to the team, especially when their opponent made massive mistakes.
"I was not even thinking of going for the football because it was going to be a touchback, but when I saw a hole open up, I turned on the jets," senior Yeriel Rodriguez said. His game play stayed victorious, which included a 102-yard kickoff return, five rushing yards, and twelve receiving yards.
"We need to come out with the same intensity and go get the win," junior Ashton Ansley said. He played a cornerbacks nightmare of a game, with 97 receiving yards and with two touchdown receptions.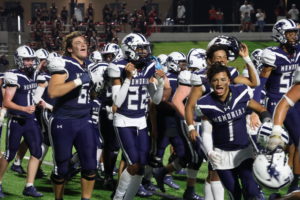 "It feels great knowing that people are watching you and cheering you on," senior Gavin Wallace said. He acquired multiple blocks and tackles that allowed the running back to get to the outside and create more yards.
The Wildcats will play the Cypress Creek Cougars at Cy-Fair FCU Stadium on Thursday, August 31. They hope to continue their athletic tempo through their non-district games and through the rest of the season.