On Thursday, the Wildcats played against the Cypress Creek Cougars and caught the win 62-6. As the Wildcats continued their winning streak, the defense continued to dominate the Cougars' field with multiple sacks and interceptions. They also led in total yards, passing yards, and rushing yards by a staggering amount.
The Wildcats came out fast and quick with creative runs which placed them on the scoreboard early in the game. With 200 passing yards and over 150 rushing yards, the offense maintained a constant danger on the Cougars' defensive side and made it clear that they are not a team to overlook.
"I feel that the defense is growing together, and that we know what each other's next move is going to be so we can adjust to be the best we can be, " senior linebacker Brayden Poe said. Brayden led the team in tackles with six on Thursday night.
"The team is working well together, and we are doing well at making plays and making even more for the linebackers," senior defensive tackle Dylan Curl said. Curl had multiple sacks in the win against Cypress Creek.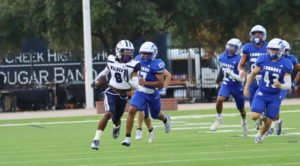 "I believe that with how we are performing in practice is showing up on the field, and if we continue to have the same intensity, then the team should continue to grow," junior quarterback Aiden Martin said. Martin threw for over 350 yards over the first two games and shows no signs of slowing down.
As Tomball Memorial continues to command the football field, they begin to prepare for their next match against the Eisenhower Eagles on Friday September 8th at 7 pm.