On Friday, the Wildcats played in their first District and Homecoming game against the Klein Cain Hurricanes and took the win with a final score of 79-33. The game started off hot with a 28-0 score at the end of the first quarter, and the Wildcats never slowed down. The offense threw over 375 passing yards and ran over 250 rushing yards.
"The team really came out strong and showed that they are capable of competing in not just non-district play but in a tough district too," senior safety Joshua Bryan said. Bryan made multiple tackles, helping the team to victory on Friday night.
"I think that because we started off strong and showed them that we have a strong defense, we felt that we could stop anything and help win this game," senior defensive tackle Ethan Chammaro said. Chammaro racked up five tackles for loss in their defensive domination of a game.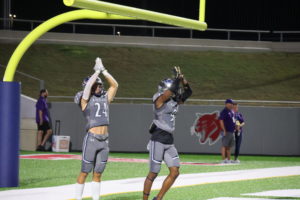 "We played the football that we have practiced and it really paid off on the field," senior wide receiver Lance Martinez said. Martinez banked 143 receiving yards that resulted in three Wildcat touchdowns.
The next game will be against the Klein Forest Eagles next week on Saturday, September 30th at 6pm at Klein Memorial Stadium. The Wildcats hope to move to 2-0 in district play and show the Eagles what they are made of.