Last Friday, the Wildcats played in their second district game against the Klein Forest Eagles and flew right past them with a final score of 34-7. The game started off slow with Klein Forest scoring first, but the Wildcats took it personally and did not allow a single point for the rest of the night. The offense threw for 350 passing yards and ran for over 300 rushing yards. The defense only allowed seven points, and caused multiple turnovers.
"I felt comfortable in the game knowing that the offensive line was blocking for me and I could create more yard for me," junior Isaiah Nelson said. Nelson spun around the defense totaling 120 rushing yards of 19 carries.
"I think the defense was playing really well, but we can definitely play better knowing that we have a win streak going," senior Aiden Holt said. Holt scared away the Eagles offense with seven tackles and multiple more tackles for loss.
"I felt that we were controlling the game, and we were playing at our own pace which made us comfortable and results made us come out on top," junior Treveon Green said. Green ran all over the Eagles with 21 carries for a total of 132 yards and ran for a touchdown in the win.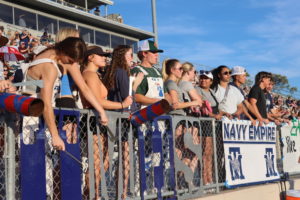 Their next game will be against the Klein Collins Tigers this Friday, October 6th, at 7pm at Tomball ISD Stadium. Both the Wildcats and the Tigers are a part of the top 50 teams in the state. The Cats hope to move to 3-0 in district play and maintain first place in the district.