On Friday, the Wildcats played in their rivalry Patriotic game against the Tomball Cougars, fighting through all adversity with a final score of 27-21. The game started off with a bang, with TMHS scoring first. Both the Cougars and Wildcats went back and forth to make the game 14-13 at halftime. The Wildcats came out strong and scored two touchdowns to start the second half, and only allowed one touchdown for the Cougars, resulting in a TMHS victory. The offense threw for 100 passing yards and ran for over 300 rushing yards.
"While the defense was guarding my receivers, I saw gaps in the line and ran for a few," junior Aiden Martin said. Martin swerved around the Cougars and totaled 100 rushing yards on 11 carries.
"When the passing game wasn't working, the ball was ready to be put in my hands, and I knew from the second that I touched it that I could create more yards with it," junior Isaiah Nelson said. Nelson scared away the Cougars defense with 150 rushing yards off of 18 handoffs.
"We knew that lots of fans wanted to see us stop the new Tomball offense, and we showed them that we can," senior Jalen Ellis said. Ellis blocked off the Cougars offense with three sacks and three more tackles for loss.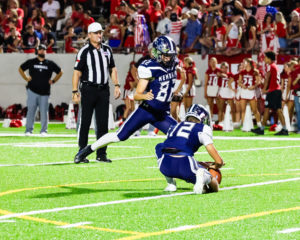 The Wildcats extended their rivalry record to 8-4 against their cross-town team. The Cats move to 6-1 on the season and move up to second place in the district, directly behind Klein Collins. Their next game will be against the Klein Bearkats on Friday, October 20th at 7pm at Tomball ISD Stadium. The team now moved back up into the top 50 teams in the state, moving up to #41. The Cats hope to move to 4-1 in district play and move up to first place in the district.