Football is finally back as the Tomball Memorial Wildcats take on the Langham Creek Lobos in the season opener on August 25 at Tomball ISD stadium.
Last season, the Wildcats took the win against the Lobos, and the team wants to continue their dominance once again. The Wildcats hope to start the season strong and show off their practiced skills under the Friday Night Lights.
The Wildcats ended their last season with a 6-5 record and earned a spot in the playoffs. Unfortunately, they were only able to make it to the 1st round, which makes the team hungry for a stronger season.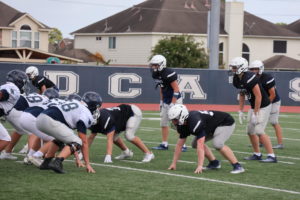 "I definitely feel like we are more of a team compared to last year with more of our seniors coming together. I feel more like a team," senior Michael (Lane) Stockton, team quarterback, said. Stockton was one of the quarterbacks last season and used his mobility to get out of the pocket to create easy yards for the offense.
"The team has to be very close when playing a football game, and I feel very close like a brotherhood. I think that's going to translate on Friday night," senior Joshua Flash said. Flash led the team in interceptions whilst providing other defensive duties.
"We are just coming and doing our job and win," senior Colin Helmer said. Helmer was one of the team leading tacklers and provided great goal line stops in moments of importance. The Wildcats strive to grow from last season and prove that they are a force to be reckoned with.