Last Saturday, the Wildcats finished their playoff run when they played against the Grand Oaks Grizzlies in the Regional Championship tournament in Lufkin, Texas. The season consisted of many records being shattered, volleyballs spiked down, and wild victory bus rides. The Cats' season started off slow, but with a little team bonding, harder practices, and a bigger ambition to play like the best, they started to dominate the court. The team entered district play and showed their opponents who owned the court by posting a perfect 14-0, being completely undefeated in district play. Their overall regular season record was the first school record to be broken. Being 37-8 and being undefeated in district play was the second, which also made them district champions.
The team entered the playoffs and dominated in their first two rounds, becoming the Bi-district and Area champions after beating Cypress Woods and College Park, which was once again, another school record. Proving that they were a force to be reckoned with, the Wildcats continued their ultimate control of the court through the third and fourth regional rounds, beating The Woodlands and Wylie East.
"I think the season was full of excitement knowing that we are winning and playing well with each other," junior Sydni Halfmann said. Halfmann was a key factor in success this season leading the team in serving aces, aces per set, and assists.
"The team was just working well together, and it showed on the court as we played really well. It got us to where we made it," senior Emily Hollas said. Hollas was important because of her vision to understand what she needed to do and as a result, she was very successful in spikes all season.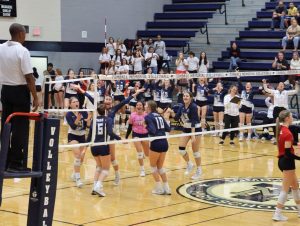 "I knew that I was a leader on this team, and I had to perform at my best and I think that it all paid off which made it a great way to finish my last high school volleyball season," senior Anahi Alvarado said. Alvarado led the team in digs per set, receptions, and digs in, which she was ranked tenth in the nation with 888 digs all season.
They had made it to the fifth round of playoffs by playing the best teams in the nation and were fighting for their right to stay in the playoffs. While the fifth round didn't end in their favor, the Wildcats accomplished so much and proved to so many that they are capable of winning anything, and that no one should ever underestimate the Tomball Memorial Volleyball Team program. The program gained so much popularity that enough of the people voted on Head Coach Sydney Lynch to be named the 6A Volleyball Coach of the Year. While the team consisted of many seniors, there are many to take their place as they already start to prepare to dominate the court next year.